David Yūdo Sawyer teaches beginner, intermediate and advanced students within the repertoire of Kyoto Mujuan dojo, which includes classical honkyoku and sankyoku ensemble pieces. He received his jun-shihan title, Yūdo 幽堂 from Kurahashi Yodo II. It means 'mystical temple' or 'ghostly shrine'.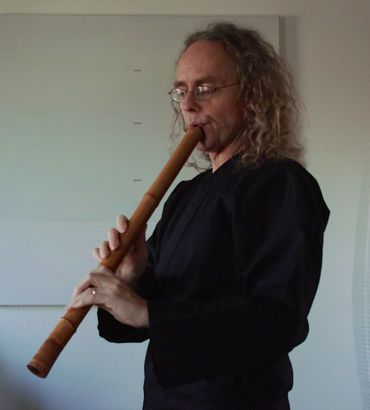 David's wife, Yoko Hiraoka teaches Biwa, koto and shamisen, so together they offer a wide panorama of traditional Japanese music and instruments at their home in Louisville Colorado, as well as teaching remotely via Skype. Yoko also teaches Japanese Tea Ceremony. She has been performing with Kurahashi Yodo II for almost 30 years, in Kyoto and the USA. Kurahashi's father was the performance partner to Yoko's string teacher, Saito Yoshiko, so the connections go far back to the early 20th century, and across the world and across nationalities too.
Honkyoku Repertoire
The original myoan honkyoku compositions collected by Jin Nyōdo in the 1930s from all over Japan form the core of the transmitted pieces. They have titles such as: 'Fog over the Misty ocean', 'Empty Bell', 'Waterfall', 'Void' etc. These classical honkyoku are masterpieces of music and give a lifetime of joy to players and listeners alike. The relationship that develops between the student and each piece becomes charming, spiritual, personal and artistic. Many of the compositions have titles referencing Buddhist concepts. They were played historically by zen monks as part of their spiritual practice.
As students progress they will also encounter folk music, ensemble sankyoku pieces and some modern works, including Enka popular song,.
Teaching approach
All students begin with foundational training in posture, breathing, holding and embouchure technique.
Shakuhachi is taught as a Path. It is taught as a developing and loving relationship in the purest sense, so that your flute can be your friend for life.
Students are encouraged to become deeply aware of their sound and the available subtleties of embouchure shaping, dynamics and efficient breath delivery. The shakuhachi experience is that of a fine pointed focus in the service of beautiful music. There are many subtle techniques in the music and the student builds skills and awareness, to go deeper into the pieces naturally.
The process of engaging with shakuhachi fosters personal reflection and grows self-awareness. The path of learning is an intimate encounter with oneself.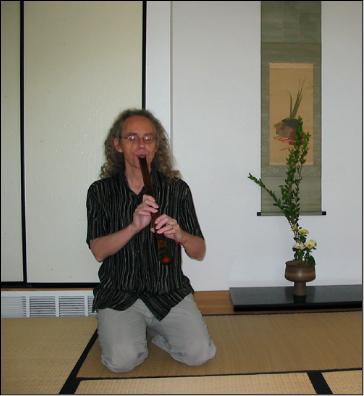 Healthy playing
The primary teaching emphasis is on building good shakuhachi 'bones'. Issues of posture, breathing, hand position and score reading are all given a great deal of careful attention right from the first lesson.
Students learn how to relax whilst playing; how to become aware of and release tensions in the body, particularly in the hands and shoulders, where injury can show up.